Acceptance & Commitment Training, Part 2
June 29 (Friday) at 11:30am
Instructor
Angie Hardage, LMLP
Class length
1 hour 30 minutes
Location
Hospital Hill Location Provided Upon Registration
Acceptance and Commitment Training (ACT) for Mindfulness Informed Professionals, Part 2
Bring your lunch and learn! Location on Hospital Hill provided upon registration.
ACT uses acceptance and mindfulness strategies, together with commitment and behavior change strategies, to increase psychological flexibility. Its core messages is to accept what is out of your personal control and commit to action that improves and enriches your life. The aim of ACT is to help people maximize human potential for a rich, full and meaningful life. This offering is appropriate for anyone who offers or wishes to offer the attitudes and practices of mindfulness in service to others.
This training is
FREE to MAM professional members
,
$20 for non-members
. 1.5 CEUs are available to KS & MO mental health providers. Space is limited – please pre-register to save your spot. No refunds the week (7 days) before or any time after the scheduled event.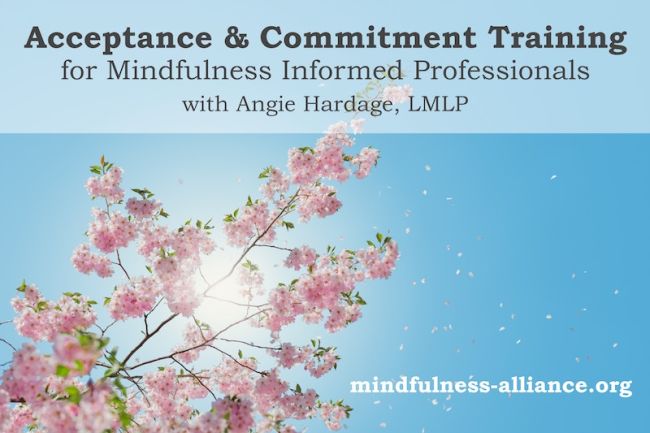 To book a spot in this class you must sign-in. If you do not have an active pass you will be prompted to purchase one first before making a class reservation.
You must sign-in to book a spot in this class.
Sign In
Create Account