Acceptance & Commitment Training – 6 Session Series
December 7 (Friday) at 1:00 pm
Instructor
Angie Hardage, LMLP
Location
Midwest Alliance for Mindfulness 11100 Ash Street Suite 103 Leawood, KS 66211
Learn the processes of Acceptance and Commitment Training to increase psychological flexibility – the ability to contact the present moment more fully as a conscious human being, and to change or persist in behavior when doing so serves valued ends. Each session includes a combination of didactic and experiential learning and also address 1) barriers that make it difficult to "do the know" along with 2) specific examples of translating the conceptual into our daily lives.  FREE for Midwest Alliance for Mindfulness (MAM) members, $20 per session for non-members. This series is appropriate for anyone interested in mindfulness, but 2 CEUs per session are available to KS & MO license mental health professionals who attend (
purchase passes here
):
1.    Values authorship and clarification, Creating a Life of Vitality 
2.    Translating Values into Goals and Behavior 
3.    Getting Unstuck - Psychological Flexibility/Emotional Agility 
4.    Defusion - Having a Thought vs. Buying a Thought 
5.    Increasing Present Moment Awareness - Expanding Your Life Space in the NOW
6.    The Role of the Self/Compassionate Perspective Taking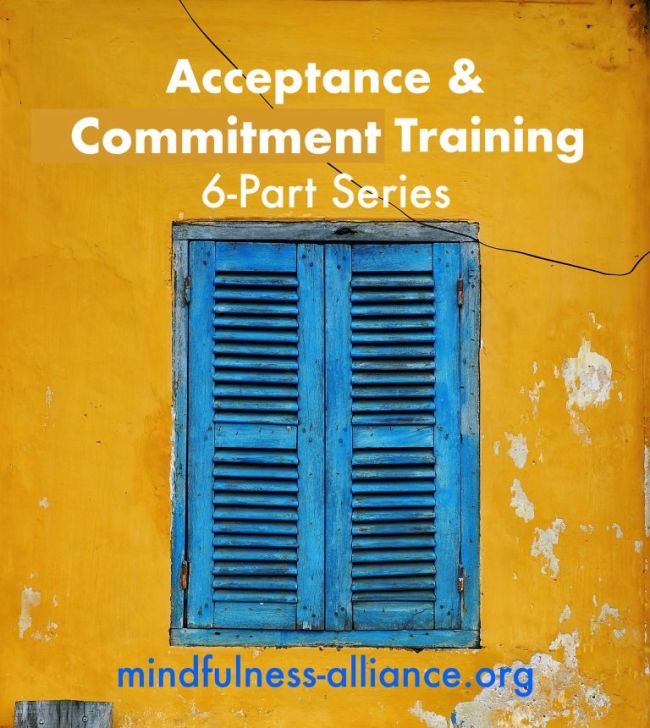 To book a spot in this class you must sign-in. If you do not have an active pass you will be prompted to purchase one first before making a class reservation.
You must sign-in to book a spot in this class.
Sign In
Create Account