Mindful Adaptive Yoga for Chronic Body-Pain


April 30 (Tuesday) at 7:00 pm
Instructor
Sydney Spears, PhD, RYT-200
Location
Midwest Alliance for Mindfulness 11100 Ash Street Suite 103 Leawood, KS 66211
Have you struggled with chronic body pain through certain conditions such as arthritis, over-sitting, sedentary lifestyle, MS, fibromyalgia, migraine headaches, low back pain, shoulder/neck muscular tightness, or other types of bodily tension? If so, this mindfulness-based adaptive yoga workshop has been specifically developed for chronic bodily-pain survivors. Participating in this experience may be helpful in managing or decreasing some of your physical discomfort as well as the stress that typically accompanies these conditions.
A recent study in the Annal of Internal Medicine found that among 313 people with chronic low back pain, a weekly yoga class increased mobility more than standard medical care for the condition. According to the Harvard Review, another study found that yoga was comparable to standard exercise therapy in relieving chronic low back pain. An analysis of multiple research studies involving more than 1,600 participants concluded that yoga can improve daily function among people with fibromyalgia osteoporosis-related curvature of the spine. Also, engaging in the practice of yoga also improved mood and psychosocial well-being.
This exploration of mindfulness and adaptive yoga will begin and end with a brief discussion about the mind-body connection, mindfulness and chronic pain. This will be followed by mindful breathing awareness exercises in order to practice relaxing your body and help free your mind of worries and distractions. Mindful breathing is a vital component of adaptive yoga and navigating chronic pain for possible tension release. The session will proceed through a series of simple yoga postures based from your choice of using a yoga mat or a chair. Adaptive" yoga forms will be offered with various options and modifications to accommodate your individual ability, strength, flexibility and pain experience. For example, most people with multiple sclerosis can participate in yoga on a chair rather than the floor.
Your instructor will contact you before the workshop to make sure this mindful adaptive yoga workshop is the best fit for your chronic pain and answer any questions you might have. During this workshop it is useful to listen to your body so that you do not push your body further than it should move. Please be aware that you are always welcome to stop or modify movements at any time within this session.
It is also highly advised that you contact your health provider to find out whether adaptive yoga might be an appropriate experience for you, especially if you have been experiencing medical problems, recent surgery, highly restricted mobility or working with a physical therapist or a psychotherapist/counselor.
Fees (click to purchase your pass – pre-registration is required):
Once you've purchased your pass(es) use our calendar to register for the date(s) you wish to attend.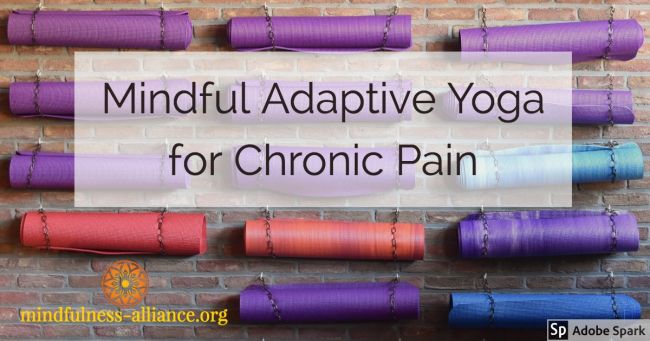 Please fill out the form to register:
If you have an account you can also log in here first:
Sign In