Community of Color Mindfulness Practice Group


October 14 (Monday) at 5:45 pm
Instructor
Tatiana Padron Perich
Location
Midwest Alliance for Mindfulness 11100 Ash Street Suite 103 Leawood, KS 66211
The Midwest Alliance for Mindfulness (MAM)
Community of Color Mindfulness Practice Group
offers a protected space of ease and support for people of color to practice mindfulness together and cultivate inner freedom. Our trained mindfulness teachers lead participants in a variety of mindfulness practices and discussion. Spanish language instruction is available during some classes.
Fees – Our intention is to make these offerings accessible to any person of color who would like to attend. Those who can contribute more help sustain the community (click to purchase your pass):
*No refunds are given on the day of the class for which you are registered. You must cancel before the day of the class if you would like to use your pass on another date.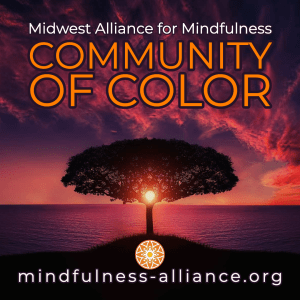 Sorry - that class has already taken place!