Acceptance & Commitment Training (ACT) – 8 Session Series
September 27, 2019 November 15, 2019
Series Of Classes
Location
Midwest Alliance for Mindfulness 11100 Ash Street Suite 103 Leawood, KS 66211
Acceptance and commitment therapy/training is a mindfulness-based approach to increasing wellness, decreasing suffering, and creating a life of vitality, meaning and purpose. ACT is a process-based approach to learning to observe and describe difficult thoughts, feelings, urges, and sensations with curiosity and compassion, while taking effective and committed action in service of intrinsic values. The primary target of ACT is cultivating the skill of psychological flexibility, a concept that is correlated with decreases in psychological symptoms and distress and with increased quality of life.
Each class in this 8-week series stands alone, but the learning is most powerful when taken as a complete series. Classes include s a combination of didactic and experiential learning and will also address 1) barriers that make it difficult to "do the know," and 2) specific examples of how participants can translate the material into their daily personal and professional lives. Bring your meditation cushion if you like – we have a few on hand if needed and folding chairs are also available.
1) The ACT Model: Psychological Flexibility & Emotional Agility
2) Defusion: Is that a THOUGHT or a FACT?
3) Values Authorship & Clarification: What Do You Want Your Life to Be About?
4) Present Moment Awareness: Be Here Now
5) Acceptance: Willingness, Willfulness, & the Wisdom to Know the Difference
6) The Role of the Self in ACT: Contacting Self-as-Context
7) Committed Action: The Mindful Action Plan
8) Compassionate Perspective Taking
Fees:
(click to purchase your pass by the enrollment deadline - save by
becoming a member
for as little as $15 per month)
**No refunds on or after the enrollment deadline. This course is appropriate for the general public, but up to 16 CEs are available to licensed KS & MO mental health professionals.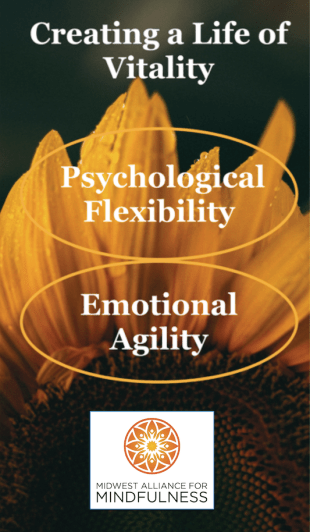 The class takes place on...
September 27 at 10:00 am (Friday)
October 4 at 10:00 am (Friday)
October 11 at 10:00 am (Friday)
October 18 at 10:00 am (Friday)
October 25 at 10:00 am (Friday)
November 1 at 10:00 am (Friday)
November 8 at 10:00 am (Friday)
November 15 at 10:00 am (Friday)

Fill out this form to register for the ENTIRE session of 8 classes: