ACT Brief & Focused Behavioral Interventions 3-Part Series
July 12, 2019 July 26, 2019
Series Of Classes
Location
Midwest Alliance for Mindfulness 11100 Ash Street Suite 103 Leawood, KS 66211
This 3-part workshop offers mental health professionals innovative tools to increase motivation, facilitate meaningful change, and increase psychological flexibility in the context of brief behavioral intervention strategies.
Part 1: Principles of Brief Intervention Using ACT
Part 2: Tools and Methods for Brief, Focused Behavioral Interventions
Part 3: Case Examples and Consultation
Fees:
MAM members = $120 for series
Non-members = $150 for series
**3 CEs are available to KS & MO licensed mental health professionals. No refunds on or after the enrollment deadline.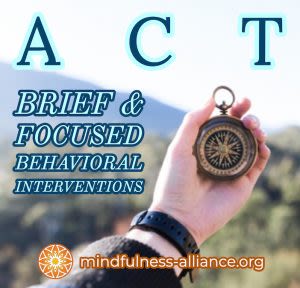 The class takes place on...
July 12 at 9:00 am (Friday)
July 19 at 9:00 am (Friday)
July 26 at 9:00 am (Friday)

Fill out this form to register for the ENTIRE session of 3 classes: