Mindfulness and Stress Reduction for Men (MSRM) - 8 Week Series
October 1, 2019 November 19, 2019
Series Of Classes
Location
Midwest Alliance for Mindfulness 11100 Ash Street Suite 103 Leawood, KS 66211
Join us at the Midwest Alliance for Mindfulness 11100 Ash Street Suite 103 Leawood, KS 66211 eight Tuesday evenings from 7-9 pm starting October 1, 2019 + half day retreat with Erik Hulse & Sydney Spears, PhD. Deadline to enroll is one week before the program starts. A free initial screening with the teacher is required to make sure the program is right for you – call Erik Hulse at 913-609-2660 or Sydney Spears at 913-406-5176 to schedule.
This 8-week course draws from the latest research and best practices of Mindfulness Based Stress Reduction (MBSR), Mindful Self Compassion (MSC) and Emotional Intelligence to explore the causes of human distress, and offer pathways to relieving suffering through formal and informal mindfulness practices within the context of the contemporary male experience. The curriculum is informed by theories and practices from contemplative traditions, science, medicine, psychology and education. Each participant in the course will receive:
20 total hours of instruction, which includes carefully sequenced mindfulness, self-compassion, and emotional intelligence exercises, guided meditations, and group discussions
Weekly handouts to reinforce the learning and provide support and reminders for home practice
Weekly home practice suggestions
Between session support from the teachers
Access to guided practice audio recordings
Men face a myriad of challenges that can negatively impact their health and wellbeing, but tend to refrain from seeking help as a result of personal and societal barriers. The effects of male gender socialization, societal shifts in the areas of masculine roles, identities and expectations often conspire to prevent men from pursuing the very practices that can offer the greatest relief from suffering. At the Midwest Alliance for Mindfulness, we believe there is a way to navigate life's challenges in a more constructive and supportive manner than to react instinctively and often negatively to them.
Fees (click to purchase):
Payment in full is required to reserve your spot and there are no refunds after the course deadline. In the unlikely event that the course is cancelled, you will receive a full refund of the registration fee, but refunds will not be provided for any pre-arranged transportation, accommodations or other miscellaneous expenses. Passes expire within one year of purchase. The teachers maintain responsibility for the implementation and content of this course.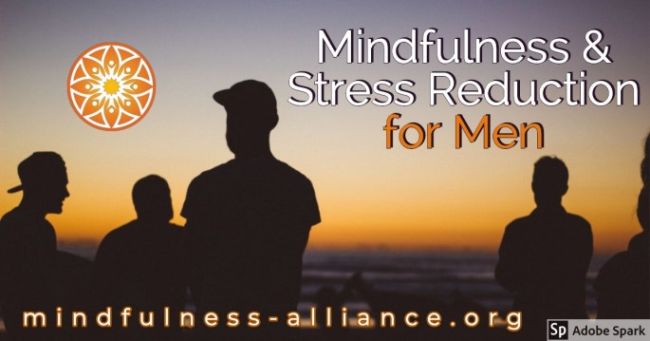 The class takes place on...
October 1 at 7:00 pm (Tuesday)
October 8 at 7:00 pm (Tuesday)
October 15 at 7:00 pm (Tuesday)
October 22 at 7:00 pm (Tuesday)
October 29 at 7:00 pm (Tuesday)
November 5 at 7:00 pm (Tuesday)
November 12 at 7:00 pm (Tuesday)
November 19 at 7:00 pm (Tuesday)

Fill out this form to register for the ENTIRE session of 8 classes: