Intro to Mindfulness 4-Week Course Fall 2020
November 2, 2020 November 23, 2020
Series Of Classes
This four part experiential workshop for adults teaches the fundamentals of mindfulness and offers an introduction to many of the formal and informal practices. No previous experience with yoga or meditation is required. Instruction and guidance are provided in a number of practices, the attitudes of mindfulness are explored, and time for discussion is included. Participants are asked to bring a yoga mat for movement and reclining practices. If you have a favorite cushion for meditation you are welcome to bring it as well. Yoga mats, chairs and props are available for those who need them.
Four Mondays 7-9 pm November 2-23, 2020
There is a two part process to reserving your seat in this class:
1.
Register using this form (you must have a waiver on file with MAM), and
2. Purchase the appropriate pass by clicking the link below (save by
becoming a member
for as little as $15 per month):
No refunds are given after the deadline for enrollment, which is one week prior to the start of the course. No makeup meetings are offered for missed classes. In the case of under-enrollment, the course is cancelled and paid registrants will receive a full refund. Registrants will not be reimbursed for pre-arranged transportation, accommodations, or any other miscellaneous expenses.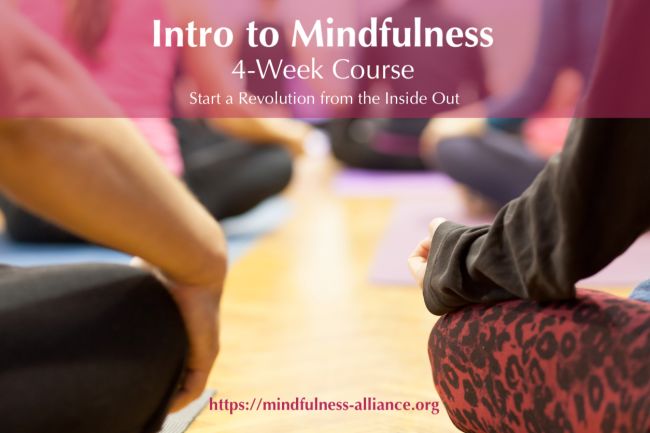 The class takes place on...
March 7 at 6:00 pm (Sunday)
March 14 at 6:00 pm (Sunday)
March 21 at 6:00 pm (Sunday)
March 28 at 6:00 pm (Sunday)

This class series has already started. Please contact us directly to register.