Mindful Movie Night: A Quest for Meaning


August 30 (Thursday) at 7:30 pm
Instructor
Guest Instructor
The Midwest Alliance is organizing a special screening of the award winning documentary "A Quest for Meaning" at the Town Center AMC August 30th at 7:30 pm. Tickets are $12 and your card won't be charged unless we hit the target. Reserve your tickets here
https://www.tugg.com/events/a-quest-for-meaning-w7io
Quest tells the story of two childhood friends and their life-changing journey around the world. Equipped with nothing more than a tiny camera and a microphone, Marc and Nathanael attempt to uncover the causes of current world crises and discover a way to bring about change. Through the messages of environmental activists, philosophers, biologists, and guardians of the ancient cultures, they invite us to join their adventure and partake in their questionings of the world. Marc and Nathanael's quest gives confidence in our ability to influence things for the better. Change is at hand all over the world – a change in consciousness, motivated by our need to live in harmony with ourselves and with the world. This film is above all a road-movie revealing the profound aspirations of a whole generation, in search of wisdom and common sense. Quest tells the tale of an inspiring, life-changing journey that renews our confidence in our capacity to bring about change, within ourselves and within society.
Following the show, a panel of local activists will briefly offer participants some practical tips for how everyday people can play a role in bettering the world from right here in our community. They will help us be the change we want to see!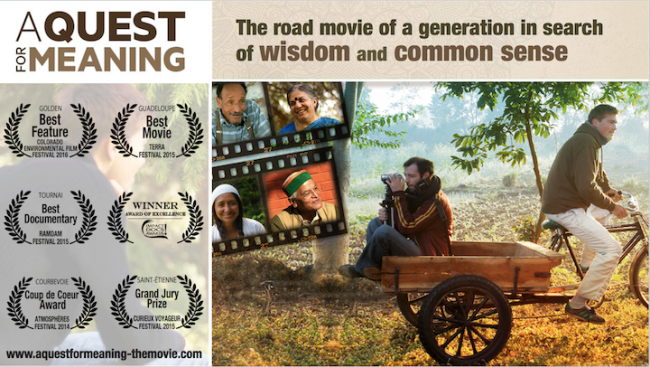 Sorry - that class has already taken place!