Mindful Nature Walk and Meditation


September 28 (Monday) at 6:30 pm (GMT-05:00)
Online Class
Instructor
Tracy Ochester, PsyD, RYT-200
Location
Prairie Center Nature Reserve Loop 26325 W 135th St, Olathe, KS 66061
Weather permitting, a trained mindfulness teacher will lead you on a nature walk on one of Kansas City's many local hiking trails, inviting you to sense and savor the experiences that arise along the way. After our walk, we will stop in a shady spot for a lightly guided meditation in stillness (sitting, standing, or lying down). Detailed instructions will be emailed to you prior to the event.
During this experience, you should feel free to choose your own adventure by walking as quickly or slowly as serves you and being your own guide. If you choose to walk at the pace of the teacher, you will receive periodic invitations to direct your attention and notice various aspects of your internal and external experience. Keep a blanket (and maybe a cushion) in your car that you can retrieve at the end of the walk to make a cozy spot under a tree or on the grass for a lightly guided stillness meditation.
In accordance with physical distancing recommendations we will be staying 6' apart. If you'd like, feel free to bring a mask and use the Zoom app on your phone to receive guidance from the teacher through your earbuds.
There is a two part process to reserving your seat in this class:

1. Register for the desired class using
the calendar
(you must have a waiver on file with MAM), and
2. Use our recurring class passes - purchase the appropriate pass by clicking the link below (save by
becoming a member
for as little as $15 per month):
We have 24 hour cancellation policy for these classes and no refunds are given for missed classes.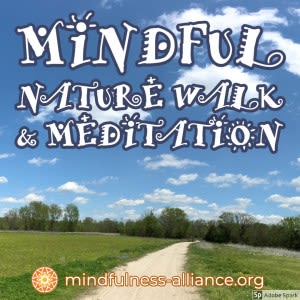 Sorry - that class has already taken place!