Mindfully Navigating the Post-Election Experience


November 7 (Saturday) at 10:00 am (GMT-06:00)
Online Class
Instructor
Tracy Ochester, PsyD, RYT-200
Location
Midwest Alliance for Mindfulness 11100 Ash Street Suite 103 Leawood, KS 66211
No matter our views or affiliations, the 2020 presidential election is likely to stir up a variety of strong feelings in us all. We invite you to join us for some post-election self-care and resilience building. During this 2 hour workshop, participants will be guided in practices promoting emotional self-regulation, cultivating wise hope, aligning our responses to the outcome with our highest values, and finding fierce compassion for those with different views. We will not be discussing our political views during this event - rather we will be exploring ways to mindfully face whatever is here and strengthen ourselves for the path ahead.
You are welcome to attend online via Zoom or on-site, but please give us at least 24 hours notice if you would like to reserve a seat in the Peace Pod (space is limited). The Zoom URL will be emailed to you upon registration. There's a two part process to registering for our classes:
1. use this form to register for the class you wish to attend, and
2. purchase your pass by clicking the appropriate link below:
*All participants must have a signed waiver on file with MAM. No refunds are given on the day of the class for which you are registered. You can read about our online etiquette here https://mindfulness-alliance.org/offerings/online-offerings/.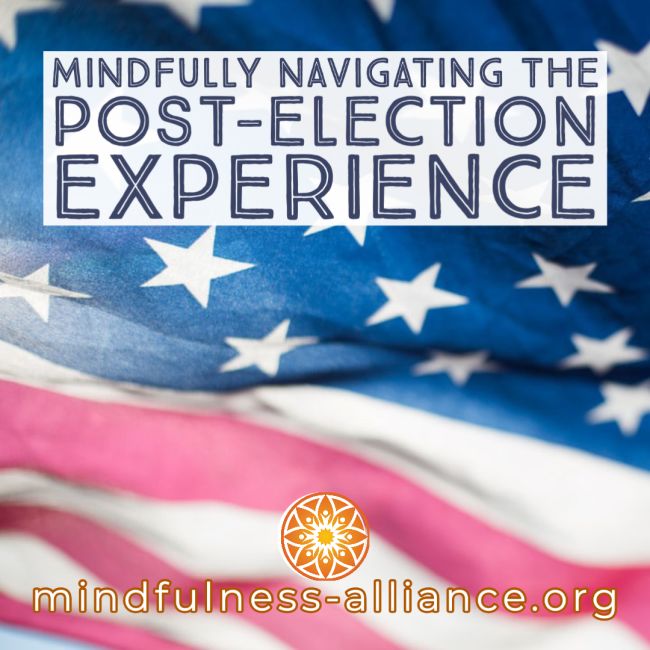 Sorry - that class has already taken place!