Connect with Inner Wisdom Online Retreat
October 4, 2020 October 9, 2020
Series Of Classes
Join Mindfulness and Somatic Self-Compassion Teacher Kristy Arbon online via Zoom for a 5-day, trauma sensitive retreat filled with guided introspection and self-care. Practice a variety of teacher-led meditations alternating with mindful movement practices. Receive insightful teachings and support from trained mindfulness instructors including instruction in sitting meditation, mindful walking and eating. Previous experience with retreat practice is recommended. This retreat is intended for the general public, but is also designed to meet requirements for ongoing practice for mindfulness teachers and 10 CEs are available for KS & MO licensed mental health providers who attend the entire retreat.
When (US Central Time):
Starts Sunday Oct 4th at 3 pm
Monday - Thursday 7 am - 9 pm
Ends Friday October 9th at noon
Where: Online via zoom - the URL will be sent just before the retreat begins
There are three steps to reserving your spot in the retreat:
1. Register using this form (a one time waiver must be on file with MAM)
2. Purchase Your Pass (click to purchase before deadline September 25th):
No refunds are available after September 25, 2020. In the unlikely event that the retreat is canceled by us, a full tuition refund will be provided, but will not include any additional travel-related expenses incurred.
Tentative Schedule (those desiring CEs must have an online presence for 80% of the retreat including the required teachings):
Sunday
Afternoon Session
3-4 pm Welcome, Introductions, Invitations and Instructions
4-6 pm Personal Practice
Evening Session
6-6:30 pm Meditation
6:30-7:30 pm Teaching (required for CEs)
7:30-9 pm Meditation and Mindful Movement
Monday-Thursday
Earlybird Session
6-8 am Meditation and Mindful Movement
8-10 am Personal Practice
Morning Session
10-10:30 am Meditation
10:30-11 am Teaching (required for CEs)
11 am -12 pm Meditation and Mindful Movement (Small Group Mentoring 11-11:30)
12-2 pm Personal practice
Afternoon Session
2-3 pm Mindful Movement
3-3:30 pm Teaching (required for CEs)
3:30-4 pm Meditation and Mindful Movement (Small Group Mentoring)
4-6 pm Personal practice
Evening Session
6-6:30 pm Meditation
6:30-7:30 pm Teaching (required for CEs)
7:30-9 pm Meditation and Mindful Movement
Friday
Earlybird Session
7-8 am Mindful Movement
8-10 am Personal practice
Morning Session
10 am-12pm Closing Talk (required for CEs)
Learning Objectives for Continuing Education – participants will be able to:
identify and create a greater sense of self-compassion to support emotional resilience and help prevent compassion fatigue/burnout;
identify and create a greater sense of compassion for others to support clear and non-judgmental perspectives of the mechanisms of suffering;
build on existing meditation experience to better practice moment-to-moment mindfulness meditation and body awareness of thoughts, emotions, sensations, imagery and behavior to support self-awareness and self-regulation;
identify and skillfully tend to one's emotional and physical distress by developing kind attention and the ability to make meaning of and tend to suffering, which will assist in working professionally with the suffering of others;
utilize a strong, developed quality of balanced observing awareness, which will support compassionate presence in professional settings with peers, clients, participants and patients;
strengthen their capacity to assess and advise clients as to the appropriateness of mindfulness practice for them.
The Teacher: Kristy Arbon
Kristy Arbon is founder and CEO of HeartWorks Training LLC, supporting people in their practice of trauma-informed self-compassion, mindfulness, somatic
awareness, shame resilience and tapping into emergent self-wisdom. Kristy is a qualified social worker, a certified Mindful Self-Compassion teacher, a qualified fitness instructor and she has completed Internal Family Systems Level 1, Somatic Experiencing Level 1 and Advanced Trauma-Sensitive Mindfulness training. Her study, practice and teaching work has deep roots in the traditions of Trauma-Sensitive Mindfulness, Sensory Modulation, Embodiment, Polyvagal Theory, Somatics, Mindful Self-Compassion, Internal Family Systems, Buddhist philosophy and exploration of archetypes. She is the developer of the Somatic Self-Compassion curriculum and she adapted the Mindful Self-Compassion curriculum for the online environment. Kristy was born in Australia and has lived in the US for the last 15 years with her American husband. She currently lives in St Louis, teaching in the US, Australia,
New Zealand, South East Asia and online.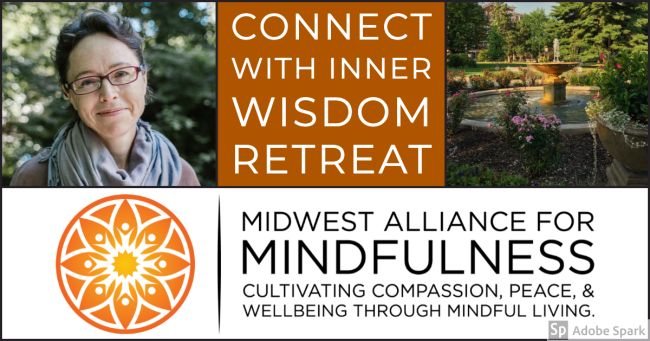 The class takes place on...
October 4 at 7:00 am (Sunday)
October 5 at 7:00 am (Monday)
October 6 at 7:00 am (Tuesday)
October 7 at 7:00 am (Wednesday)
October 8 at 7:00 am (Thursday)
October 9 at 7:00 am (Friday)
This class series has already started. Please contact us directly to register.