Winter Warmheartedness
November 8, 2020 February 28, 2021
Series Of Classes
Warm your heart this winter! Many people are feeling apprehensive about the winter months ahead in light of the physical distancing requirements of the pandemic. As the weather grows colder and the days shorter, making opportunities for interpersonal connection will be more important than ever. Let us help you stay connected during the winter months with our eight-week program to foster community, increase wellbeing, and practice mindfulness together. MBSR teacher Marla Herron, EdD will guide participants in a variety of mindfulness practices each week, welcome special guests, facilitate group discussion, and offer reflections and inquiry. Participants will have the option to pair up with a support partner to connect between meetings. Topics will include:
mindful self-compassion
attitudes of mindfulness
self-soothing
somatic self-compassion
resilience
When: 2nd and 4th Sundays from 6:00 – 7:00 pm November 8 & 22, December 13 & 27, January 10 & 24, February 14 & 28
This class is offered online via Zoom. You can read about our online etiquette here https://mindfulness-alliance.org/offerings/online-offerings/.
There's a two part process to registering for our classes:
1. use this form to register for the class, and
2. purchase your pass by clicking the appropriate link below:
*No refunds are given on the day of the class for which you are registered. You must cancel before the day of the class if you would like to use your pass on another date.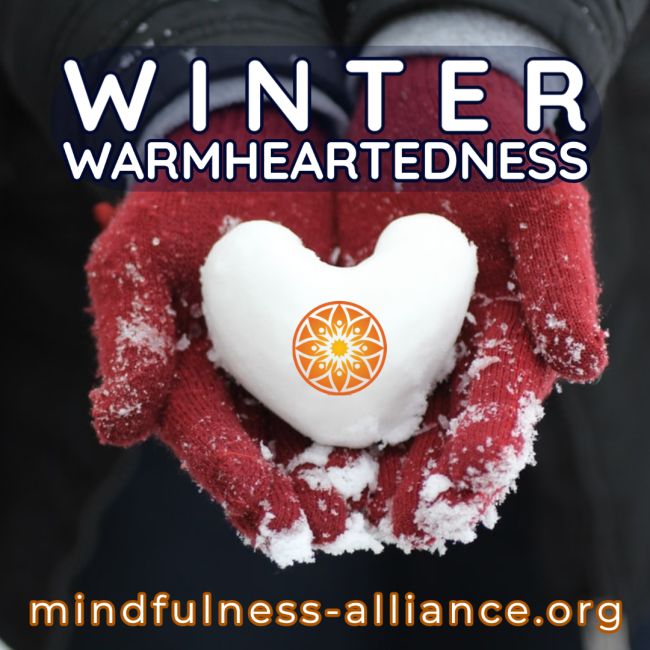 The class takes place on...
November 8 at 6:00 pm (Sunday)
November 22 at 6:00 pm (Sunday)
December 13 at 6:00 pm (Sunday)
December 27 at 6:00 pm (Sunday)
January 10 at 6:00 pm (Sunday)
January 24 at 6:00 pm (Sunday)
February 14 at 6:00 pm (Sunday)
February 28 at 6:00 pm (Sunday)

This class series has already started. Please contact us directly to register.