Attitudes of Mindfulness 8-Week Series
May 13, 2019 July 8, 2019
Series Of Classes
Location
Midwest Alliance for Mindfulness 11100 Ash Street Suite 103 Leawood, KS 66211
The attitudinal factors of mindfulness "constitute the major pillars of mindfulness practice" according to Jon Kabat-Zinn. Each meeting in this series will address one or more of Kabat-Zinn's fundamental attitudes from his book Full Catastrophe Living. Group guides will offer a teaching on the topic of the day, lead a related practice, moderate a group discussion, and suggest between session "homework". Zinn's book is useful, but not necessary for this course. Bring a notebook for journaling and other written exercises and a cushion to sit on if you like – we have a limited number of cushions and folding chairs on hand.
May 13: Non-judging (Tracy)
May 20: Patience (Angie)
May 27: Memorial Day No Class
June 3: Beginner's Mind (Angie)
June 10: Trust (Tracy)
June 17: Non-striving & Letting Go (Angie)
June 24: Acceptance (Angie)
July 1: Gratitude & Generosity (Tracy)
July 8: Compassion (Tracy)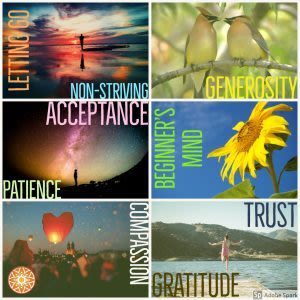 The class takes place on...
May 13 at 7:00 pm (Monday)
May 20 at 7:00 pm (Monday)
June 3 at 7:00 pm (Monday)
June 10 at 7:00 pm (Monday)
June 17 at 7:00 pm (Monday)
June 24 at 7:00 pm (Monday)
July 1 at 7:00 pm (Monday)
July 8 at 7:00 pm (Monday)

Fill out this form to register for the ENTIRE session of 8 classes: