Mindful Self Compassion (MSC) - 8 Week Course Fall 2020
September 27, 2020 November 22, 2020
Series Of Classes
Location
Midwest Alliance for Mindfulness 11100 Ash Street Suite 103 Leawood, KS 66211, Online
Mindful Self-Compassion (MSC) is an empirically-supported 8-week course designed to cultivate the skill of self-compassion. It was developed by Christopher Germer, PhD, a leader in the integration of mindfulness and psychotherapy (www.ChrisGermer.com) and Kristin Neff, PhD, a pioneering researcher in the field of self-compassion (www.Self-Compassion.org) and teaches participants skills needed for greater awareness in the present moment of their own distress or suffering so they can respond with kindness and wisdom. Research is showing that self-compassion is correlated with greater happiness and wellbeing, decreased anxiety and depression, as well as healthier lifestyle habits. Participants learn how to treat themselves more like someone they love, befriending themselves, cultivating a gentle curiosity about inner experiences, motivating with encouragement rather than punishment, and coping with difficult emotions with greater calm and ease. This program fulfills one of the prerequisites for becoming a MSC teacher and up to 24 CE credits are offered for MO & KS licensed mental health professionals. The course consists of eight weekly 2.5 hour classes plus half-day retreat. Each participant in the course will receive:
24 total hours of instruction in Mindful Self-Compassion, which includes carefully sequenced self-compassion exercises, guided meditations, written exercises, group discussions, and mindful movement;
Weekly handouts to reinforce the learning and provide support and reminders for home practice;
Weekly homework assignments (optional, but recommended);
Access to all meditation audio recordings
There is a two part process to reserving your seat in this class:
1.
Register using this form (you must have a waiver on file with MAM), and
2. Purchase the appropriate pass by clicking the link below (save by
becoming a member
for as little as $15 per month):
No refunds after the enrollment deadline and no makeup classes will be provided for missed classes. Please note that we reserve the right to cancel the class in case of low attendance, in which case, you will be given a full refund.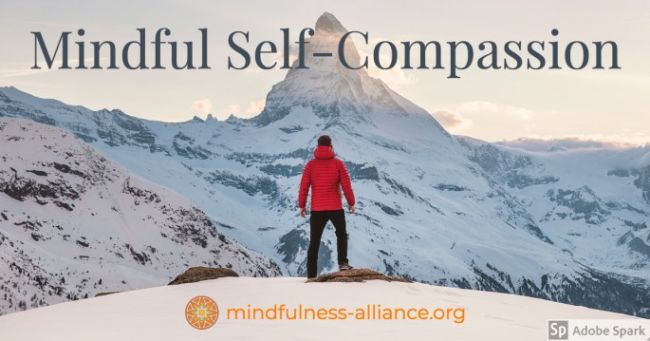 The class takes place on...
September 27 at 3:15 pm (Sunday)
October 4 at 3:15 pm (Sunday)
October 11 at 3:15 pm (Sunday)
October 25 at 3:15 pm (Sunday)
November 1 at 3:15 pm (Sunday)
November 8 at 3:15 pm (Sunday)
November 15 at 3:15 pm (Sunday)
November 22 at 3:15 pm (Sunday)

This class series has already started. Please contact us directly to register.