Intro to Mindfulness Based Programs


August 3 (Saturday) at 10:00 am
FREE
Instructor
Tracy Ochester, PsyD, RYT-200
Location
Midwest Alliance for Mindfulness 11100 Ash Street Suite 103 Leawood, KS 66211
This FREE introductory two- hour session is designed to introduce participants to
Mindfulness Based Programs
(MBPs) and help them choose the MBP that suits their current needs. Representative teachers from each of the programs (MBSR, MBCT/MBRP, MSC, iRest, etc) will present relevant information and guide a sample practice. Time for Q & A is build into the session.
**Anyone who attends this session and registers and pays for an upcoming MBP during the session will receive a discount on the course of their choosing (MBSR, MBCT, MBRP, MSC, iRest, UM)**
**This program will be recorded - by registering for the program you are consenting to our use and distribution of your recorded image and voice.**
MBPs are evidence based mind-body programs that train participants in the cultivation of mindfulness in order to support wellbeing, address the causes of human distress, and offer pathways to relieving suffering. They are informed by theories and practices from contemplative traditions, science, medicine, psychology and education.
The purpose of MBPs is to help participants develop a new relationship with experience characterized by present moment focus, decentering and an approach rather than an avoidance orientation. This supports the development of improved attentional, emotional and behavioral self-regulation, as well as positive qualities such as compassion, wisdom, equanimity. Participants are engaged in sustained and intensive training in mindfulness practices in an experiential inquiry-based learning process, including exercises to develop insight and understanding. The elements of the curriculum are adapted to fit specific populations and contexts.
MBPs are designed to complement traditional medical and psychological treatments, not to replace them. They are therapeutic skill-building courses, but they are not therapy. Professionals who provide MBPs are required to fulfill specific training requirements including coursework, hands on experience, and mentoring.
If there is a waiting list for this session, please still sign up. There may be late cancellations, so you may still get a spot. If the waiting list gets large enough, we will schedule an additional offering.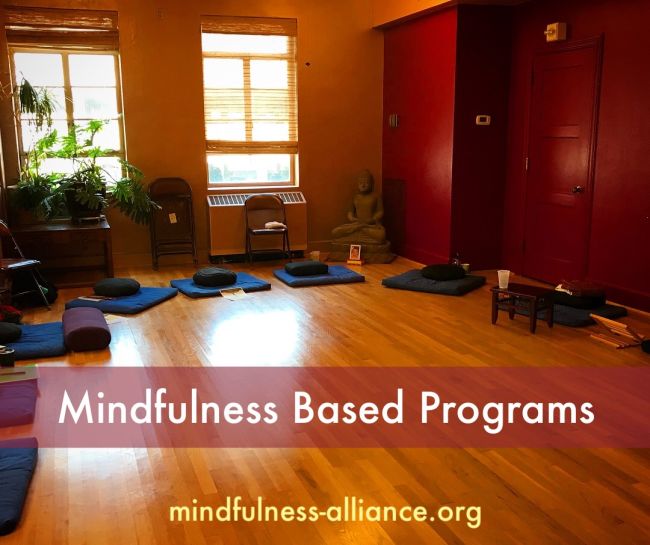 Sorry - that class has already taken place!